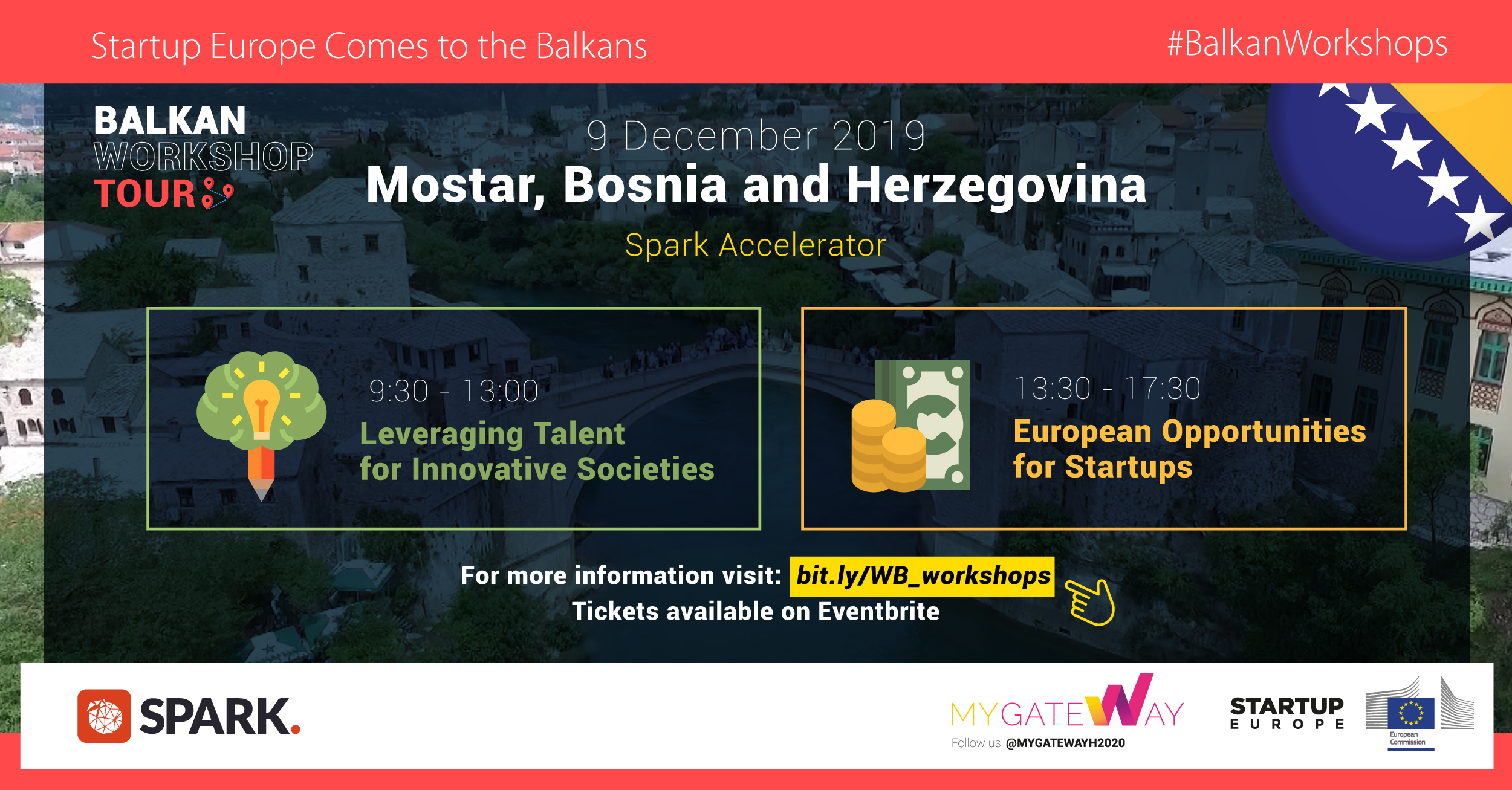 Posted: 13.11.2019 09:05
Startup
MY-GATEWAY Balkan Roadshow: Western Balkan Workshops
Two years of MY-GATEWAY are about to come to an end, and the last activity is a Balkan Roadshow which will bring this project to North Macedonia, Serbia and Bosnia and Herzegovina. MY-GATEWAY team wants to share their knowledge and findings with Western Balkans partners by organising practical workshops that local entrepreneurs and ecosystem players such as representatives of universities, corporates, incubators, and accelerators could attend.

The Western Balkan workshops will be held on Monday, 9 December 2019, in Mostar, Bosnia and Herzegovina at the SPARK premises. Topics such as EU funding for startups, Technology Transfer Model and Talent Acquisition Model will be discussed. We will also dive deeper into more specific programmes and tech events.

Workshops will last a whole working day, from 9am till 5pm. Nonetheless, as we know that the topics discussed are very different, you'll have the option to book only the timeslots you're interested in. You can sign up on Eventbrite. All you need to do is choose the session you'd like to attend and book your free ticket.

The future of work is changing, and universities, businesses and people have to adapt and respond with the perfect mix of soft and hard skills. But how can this be done? The Unidemi team will guide you through their recently developed Talent Acquisition Model. Let's make universities entrepreneurial hubs! Grab your ticket here www.eventbrite.com/e/79074344493.

Have you thought about applying to EU funds but always found it a bit daunting? Relax, the moment to learn has come! Join us and let EuropaMedia guide you step by step through all sorts of funding opportunities for startups and SMEs! Grab your spot here www.eventbrite.com/e/79081146839.