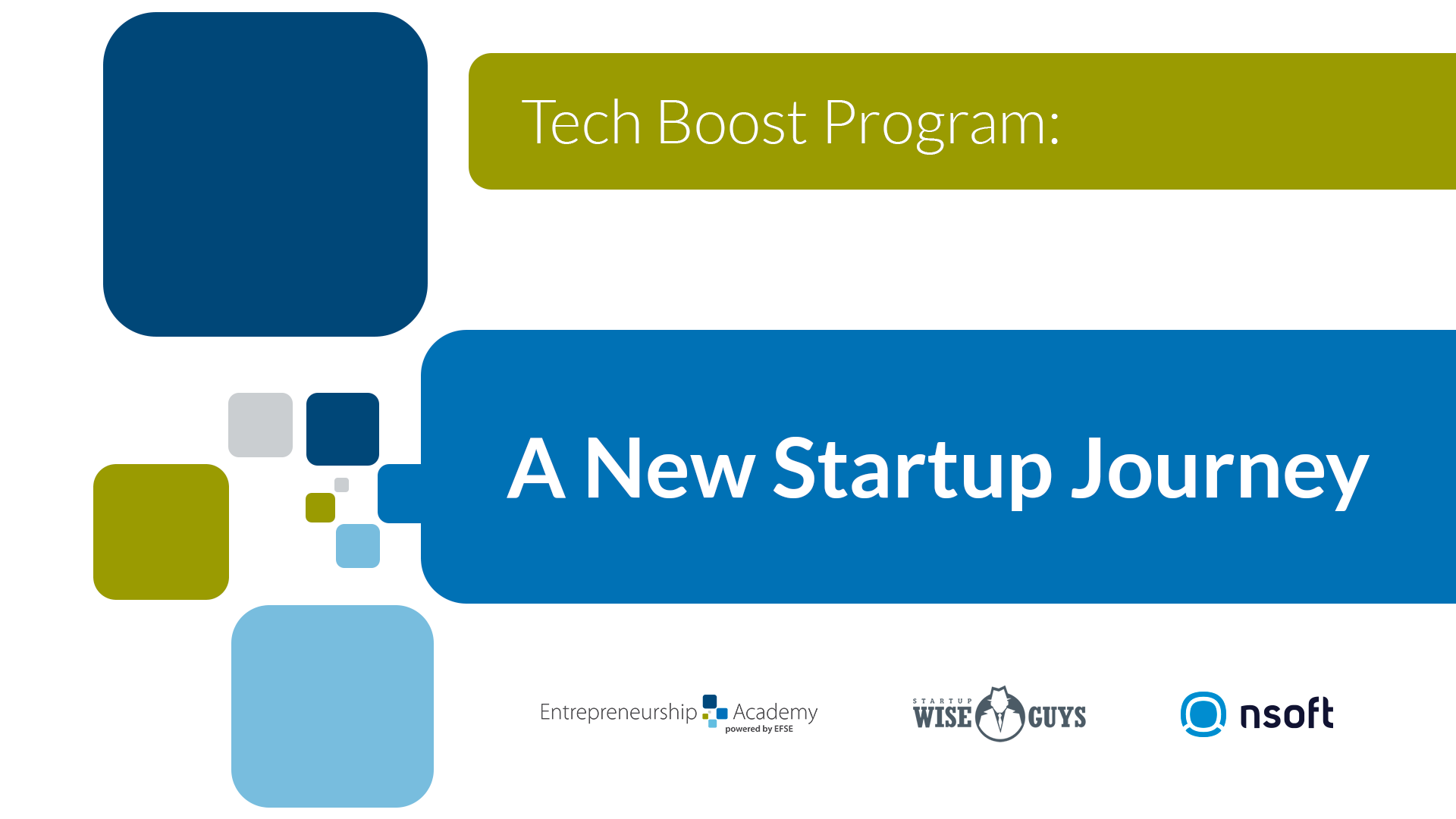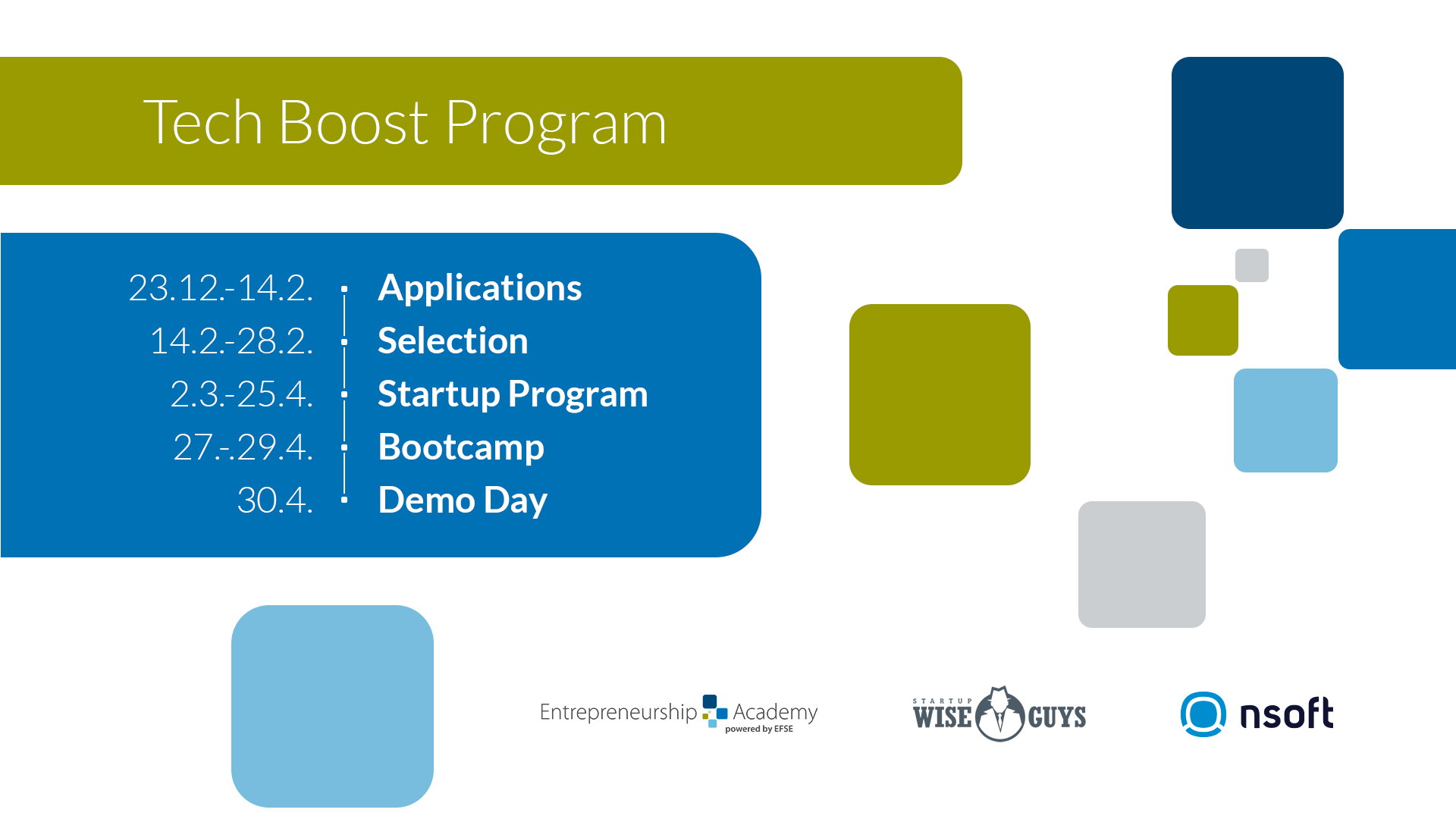 Posted: 23.12.2019 12:35
Project
Startup
Tech Boost Program: A New Startup Journey at SPARK
We are embarking on a new startup journey in 2020, and we cannot do this without creative and enterprising people with ideas, without founders and startups… As we enter a new decade, Tech Boost Program has been designed to be new and full of interesting and useful things to turn your ideas and dreams into sustainable plans. Keep reading if you have ideas for tech startups!
About the program
The Tech Boost Program is a free and equity-free program designed to accelerate the growth of early-stage startup founders who wish to prepare for the first investment round. The program covers a wide range of verticals and industries while prioritizing impact-driven entrepreneurs.
The program will run for eight weeks, beginning in early March 2020. It is designed for complete beginners who have never had their startup, but also for veterans of the startup world. Startups don't have to be from Mostar because there is a possibility of remote work. Eight selected startups will receive free space, equipment, online and offline mentoring and education for their team, and will work on their product during that time. Each of the eight weeks will cover different topics, such as introductions to the startup world, pitching and presenting, lean startups, sales, marketing, investments, and starting/managing a company. In addition to local mentors, European mentors from renowned European startup accelerator Startup Wise Guys will also work with startups.
After an eight-week startup program, an intense three-day bootcamp awaits you. Topics that will be included in the bootcamp are sales and management tools, design thinking, customer acquisition, and pitch training. Finally, startups will showcase their products at Demo Day at PODIM, Slovenia in May 2020 in front of regional and international partners and investors.
One of the benefits of the program is that startups will join the alumni and get a chance to pitch at EFSE Entrepreneurship Tournament (to be held in October 2020 in Sarajevo). They can win up to EUR 10,000 for their business development.
The Tech Boost Program is a regional program designed as a partnership between Europe's leading B2B startup accelerator Startup Wise Guys and selected regional accelerators such as SPARK, supported by European Fund for Southeast Europe (EFSE) Entrepreneurship Academy.
Applications
We search for early-stage startup founders who have the ambition to do commit full time and are ready to fight for regional and international success! Ideally, the startup should be in the early stage of MVP development or have a draft MVP. The application deadline is 14 February and the application itself will not take much time. In addition to your basic information, you should provide the name of the startup, a brief description of the idea, team members (if you have one), target market, business model, and submit a short pitch deck (presentation). Apply via the form at the end of this page. Important note: the application should be in English.
The program is free of charge thanks to project partners: EFSE Entrepreneurship Academy of European Fund for Southeast Europe, Startup Wise Guys, and NSoft.
About partners
EFSE ENTREPRENEURSHIP ACADEMY
The EFSE Entrepreneurship Academy, an initiative of the EFSE Development Facility, encompasses a range of programs to support local business development throughout the EFSE target region. By working together with on-the-ground organizations that drive incubation and acceleration projects, the Entrepreneurship Academy provides entrepreneurs with guidance, resources, mentoring, networking opportunities, the chance to receive financial backing, and other means necessary to turn good ideas into successful enterprises. In this way, the Entrepreneurship Academy and its partners help create an environment where entrepreneurs can thrive – driving the spirit of EFSE as "The Entrepreneurship Fund".
More information: www.efse.lu/entrepreneurshipacademy
STARTUP WISE GUYS
Startup Wise Guys is Europe's leading B2B startup accelerator, present in all three Baltic states with participants from around the world, also voted VC fund of the year 2019 in CEE. SWG displays a 77% survival rate and is one of the most active early-stage investors in Nordics & CEE with more than 145 portfolio companies.
More information: startupwiseguys.com
SPARK
SPARK is an IT and business education hub dedicated to students, digital professionals, startups, and companies. We are located in Mostar, but our operations cover the whole of Bosnia and Herzegovina. Our goal is to provide high-quality education and prepare young talents for industry 4.0, which will lead to the enhancement of the competitiveness of bh. market. We do this through our five programs – SPARK school, SPARK startup, SPARK marketing, SPARK project, and SPARK business, by organizing various workshops, academy programs, meetups, hackathons, conferences, and other community-wide events.
More information: spark.ba